WordPress sites and WooCommerce stores, whether they are new or old, require plugins to ensure optimal functionality and achieve maximum efficiency.
Plugins are what make WordPress websites so powerful! They can do all sorts of cool things to make your website even better. Whether you need to make your images smaller, make your site faster, make it more secure, or anything else, there's a plugin out there just for you!
In this article, we've compiled a list of the best and must-have plugins that you need on your WordPress website or clients' sites.
But first, let's educate WordPress beginners on what plugins are, and why they're so important on their new WordPress websites.
What Are Plugins?
Plugins are like apps on your phone – they help you do something, but you need to download the important ones so they don't take up too much space.
When you create a new website, you need to make sure you have the right plugins to get it up and running. Plugins are basically extensions for software that add new features or functionality. They're used in a lot of different ways, like in digital audio, videos, and Web browsing.
Today, lots of websites and blogs use plugins to get them up and running. Most plugins offer security, optimization, payment gateways, etc.
Types of WordPress Plugins
You also need to note that there are two categories of plugins which are Basic (or Free) and Premium (or Paid).
Basic Plugins: The following categories of plugins provide basic functionality to your WordPress sites and blogs. These plugins are an essential component of your site and can be used for a variety of purposes, including security, contact management, lead generation and much more.
Additionally, these plugins are divided into four distinct subcategories, namely 'Featured', 'Popular', 'Recommended' and 'Favorites'.
Premium Plugins: These are plugins that are specifically designed to do twice or three times the work of the basic plugins on the WordPress site. These plugins are usually labelled with average prices on the developer site based on their functionality. Most of these plugins are available on monthly subscription plans, annual renewals, or lifetime packages.
Why You Need Plugins For Your WordPress Sites
Every WordPress site owner requires a certain number of plugins in order to operate their online business effectively and efficiently. You require plugins to perform essential functions on your WordPress sites, such as:
Lead generation and conversions
Maximum site security from potential malware viruses and hijacks
Site backups
Site speed and performances
SEO (Search Engine Optimization) plugins
Monetization purposes such as selling memberships, online courses, souvenirs and much more.
Data research and analysis
10+ Must-Have Plugins For Every WordPress Site
Okay, so now that you know what Plugins are and what they can do, let's quickly show you some of the must-have plugins for your new and existing WordPress sites. We will list both basic and premium plugins in this article.
While there are presently over 60,000 plugins in the WordPress repository, we strongly advise that you carefully choose the ones that will suit the purpose of your WordPress site.
Check out some of them listed below;
Hello Bar is a lead-generation WordPress plugin that helps you conveniently attract and convert your users into paying customers with simple campaign features such as modals, slidders, alert bells, and page takeovers.
With Hello Bar, you can easily gain more followers and grow your audience. And most importantly, convert them into leads. Your visitors won't leave your site anymore without first taking action.
Certainly, you need Hello Bar to:
Increase visitor engagement
Generate leads on a continuous basis
Build your social media following
Reduce cart abandonment to enhance your revenue
HelloBar is one of the best B2B lead generation tools most savvy online marketers use nowadays. In order to improve your B2B marketing strategy, we'll recommend you start using Hello Bar.
How to use: Hello Bar is a standalone application that integrates with WordPress. You must have an account with Hello Bar in order to take advantage of this plugin. Create a free HelloBar account.
Pricing: Hello Bar plan starts from $29/month and above. It has a free version but with limited features such as logo customization, integrations with the most popular email marketing software, and other premium support.
WPForms is the best drag-and-drop WordPress form builder, which is used by over 4M+ smart website owners to build engaging contact forms and surveys.
With WPForms, you can create payment forms for your clients, Newsletter forms for your email subscribers, registration forms for events, and a whole lot more.
Additionally, WPForms works seamlessly with an essential add-on called Zapier for automatic leads generation, online payment gateways like PayPal, and much more. (See our article on how to connect WPForms with Zapier).
With WPForms, you can easily build online forms in minutes and use them on your WordPress site and WooCommerce store. It is easily customizable and can adapt to your needs depending on what you want to use it to achieve.
If you want to avoid an excessive workload with your contact forms, then we recommend you start building forms with WPForms today.
Pricing: WPForms premium plan costs $39.50. There is a basic or lite version of this plugin with limited features. However, you can start with that, while you consider upgrading to the premium version over time.
Some other best WPForms alternatives are – NinjaForms and GravityForms.
Optinmonster is a Hello Bar alternative lead generation plugin that helps convert and monetize your website traffic. The usage of Optinmonster ensures your time, money, and traffic-driving efforts don't go to waste.
With Optinmonster, you can increase your email list of subscribers, get more leads from your traffic, make more sales if you have an online store, and have lots more benefits.
How Does OptinMonster Work?
Optinmonster has a drag-and-drop feature that lets you customize your campaigns to your taste or choose from available templates.
You can now go ahead and personalize your content with behavior automation to show your offer to your website visitors so that anytime they visit your site, they will be shown your offers. You also have to take into consideration that your offerings have to be juicy in order to experience great conversions.
Once your offerings start showing up on your site, you will need to use the real-time stats to do some split tests to know where and which of your products and/or services to concentrate better on to maximize more conversions.
Pricing: Optinmonster plans are from $9 and above.
4. Yoast
Just as their slogan depicts on their site; Yoast is for everyone. And yes! You will need to solidly optimize your WordPress site to give you the best conversion rates and benefits.
Yoast is every website owner's favorite when it comes to achieving optimum search engine optimization.
As a small business owner and a marketer, It is imperative you optimize your WordPress content, boost your local visibility, improve your videos, optimize your online store, and many more. You can also use it to create a sitemap for your WordPress site along with several other great features.
Installing Yoast on your WordPress site is free and simple. However, there are premium features they offer too. Another excellent Yoast alternative is AIOSEO.
5. Performance Lab
This new free plugin from the WordPress performance team lets you discover hidden problems on your WordPress site and enhances your website performance with unique features such as:
Full page cache health check
WebP image creation
General health check performances
The Performance Lab plugin also detects modules to be added to the WordPress core and replaces existing modules with new ones during every new update.
6. Google Recaptcha
Google ReCaptcha helps in preventing spambots on your contact forms, WooCommerce login forms, and other types of forms on your websites.
As a new website or blog owner, you have to be extremely cautious and concerned about securing your website from time to time. For optimum security, you have to ensure you use the best WordPress security plugins that are constantly updated.
I'm sure you must have encountered some sites asking whether you're not a human or proving you're not a robot. Or see some login portals containing the ReCaptcha box for you to tick before gaining access to the site.
Hence, it's imperative you also do the same to your website in order to prevent spam bots, etc from gaining access. That is why we will recommend the reCaptcha plugin by Best Web Soft as one of the must-have plugins for your WordPress sites.
ReCaptcha by Best Web Soft plugin is an effective security solution that protects your WordPress website forms from spam entries while letting real people pass through with ease. It can be used for login, registration, password recovery, comments, popular contact forms, and others. reCAPTCHA Versions such as Version 3, Version 2, and Invisible are included.
The free version is limited to WordPress default pages such as the login form, registration form, and comment form.
While the premium version helps;
eCommerce sites protect their WooCommerce login, registration, password resets, and checkout forms.
Forum sites using BuddyPress, bbPress, and wpForo login and registration pages.
Mailchimp for WordPress email users.
Divi login and contact forms.
Ninja forms, Jetpack forms, Contact Form 7, and Gravity forms.
After successful installation on your site, your users are required to confirm that they are not a robot before the form can be submitted. It's easy for people and hard for bots.
How to Install Google ReCaptcha by Best Web Soft Plugin
Register your domain name with the Google reCaptcha service to obtain your API keys and add the keys to the fields in the plugin. Get your API keys.
Install and activate the reCaptcha by Best Web Soft plugin from the WordPress repository and insert the API keys.
Copy the shortcode provided into your contact forms.
Add the reCaptcha shortcode provided to your login pages/posts and other contact pages.
7. Google Site Kit
Google Site Kit is an official (free) Google plugin designed for WordPress. It brings together a collection of Google tools to monitor and optimize your site.
Data analytics plugins such as Google Site Kit provide accurate metrics and insights on your website users, which help you make decisions depending on what information is gathered.
Managing a successful site can be complicated. Site Kit makes it easy to set up and configure key Google products, giving you authoritative and up-to-date advice on how to succeed on the web.
Site Kit is ideal for you if you want easily digestible information about your audience and revenue performance, all in one place. The plugin lets you easily set up Google tools on your site and see everything in a single Dashboard inside WordPress. No code editing is required.
You get to connect other vital and must-have Plugins for your WordPress sites such as:
Search Console: This measures your site's Google Search traffic and performance.
Google Analytics: This tells you how users find, use, and engage with your WordPress site.
PageSpeed Insights: This analyzes your site and suggests ways to make it faster.
Google Adsense: This allows you to show ads automatically on your WordPress site.
Setting up the free and open-source plugin – Google's Site Kit on your WordPress is pretty simple.
Visit the Plugins>>Add New in your WordPress admin dashboard.
Search for Site Kit by Google.
Install and activate.
Follow instructions to set up tools like Adsense, Analytics, etc.
MonsterInsights is the best WordPress Google Analytics plugin, which is used by 3M+ website owners. When connected to Google Analytics, it gives you insight into people visiting your websites such as real-time analytics, user behaviour reports, SEO ranking reports, and much more on your WordPress dashboard without the need to visit the Google Analytics site.
With these rich data at your disposal, it will help you know what line of action to take next so as to achieve a maximum conversion rate on your website. And I'm pretty sure you'd want to know important information like – where your visitors are coming from, what they do on your site, their age, gender, and much more. All this vital info will you get in one place.
Here's why smart business owners and savvy online marketers love MonsterInsights:
Publishers (Bloggers): Do you want to be a professional blogger? MonsterInsights will help you write better and well-engaging content to serve your audience and in return drive more traffic to your site.
Store Owners (eCommerce): You need the plugin if you plan on selling products and services on your WordPress site, as it will help you make more sales thereby reducing cart abandonment and much more.
Business Websites: As a business owner looking for more opportunities, it will help you write content that converts, which will in turn get you new email subscribers and a whole lot more.
Other outstanding features such as seamless interactions with other popular plugins, higher profits, more revenue, and more retention of readers, clients, and customers.
Pricing: MonsterInsights costs $49 only, and comes with premium features for free for a year.
9.
SocialProofy
SocialProofy is a Trustpulse alternative that lets you convert your WordPress sites and WooCommerce store visitors into customers. If you're running an eCommerce store powered with WordPress, or selling anything online… you need to build trust with your prospects.
The short way of doing this is through SocialProofy. Social Proofy helps you leverage the power of social proof. You can show, in real time, how popular your products are. And prospects will see that.
They'll see other people taking action and buying your products, so they'll want to do the same.
There's no better way to build trust than this because you're giving them undeniable proof that what you have to sell is in demand. If it's in demand, it must be good.
If it's good, it's worth paying for. So if you want to boost your sales in a matter of days, add SocialProofy to your WooCommerce store.
10. CookieYes | GDPR Cookie Consent & Compliance Notice
The CookieYes GDPR Cookie Consent & Compliance Notice plugin allows you to inform users that your site uses cookies and helps you comply with GDPR, CCPA, and other data privacy laws. The must-have plugin (with over one million active installations) is one of the best GDPR compliance plugins for WordPress sites as it comes with a host of features some of which are listed below.
Accept and Reject buttons.
Single-click automatic scanning and categorization of cookies.
Let you display the list of cookies on your cookie policy page by using a shortcode.
Adds a subtle cookie banner to your WordPress website either in the header or footer so you can show your compliance status regarding the new GDPR law.
Full customization of fonts, colors, styles, banner pop-ups, etc.
WPML compatible.
qTranslate and Polylang support.
With the premium version features of CookieYes GDPR consent plugin, you can:
Manage list of cookies ( Name, CookieID, Description, Duration, Type, Category, Header Script, Footer Script).
Manage Cookie Categories.
Scan and auto-block scripts – Google Analytics, FB Pixel, Google tag manager, Hotjar, Instagram, etc.
Exclude the locations of cookie notices for EU countries.
Provide the users with granular control over the cookies/scripts used by the website.
Extend the cookie banner customization
And lots more.
To effectively set up the basic version of the CookieYes GDPR consent plugin on your WordPress site, visit the user guide. However, note that the basic version has limited features compared to its premium version.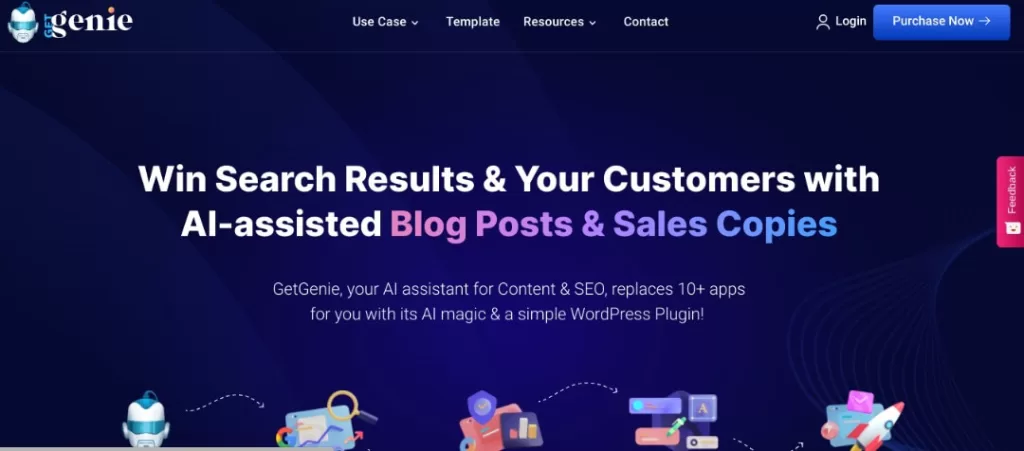 GetGenie is currently one of the best Artificial Intelligence WordPress plugins that generate SEO-friendly content for websites and blogs.
As far as SEO and content are concerned, the OpenAI alternative writing tool ensures your blog posts and other sales copies are well articulated in order to rank better on Google's SERPs.
Find out below why we recommend GetGenie as one of the must-have plugins for both your WordPress sites and WooCommerce stores.
GetGenie, when Installed on your WordPress site will help you;
Conduct proper research keyword test
Analyse your competitors
Generate title ideas and content outlines
Write content that converts
Rank better on search engines
Scale your site's organic traffic
Save time in writing long-form content
Pricing: GetGenie is free but comes with limited features. You have to upgrade to the pro version in order to enjoy the tool starting from $15.2/mo and above with a 14-day money-back guarantee.
We hope you will find the above-mentioned must-have plugins very useful for your WordPress sites.
Kindly subscribe below to our newsletter for more tips and tutorials. You can also find us on Twitter, Facebook, and LinkedIn.