LearnDash, one of the best LMS plugins for WordPress websites has added two new premium add-ons to its core WordPress course builder – the Gradebook add-on and the Notes add-on for course creators to take advantage of.
If you use LearnDash to create, sell and manage courses on your WordPress website, then you should consider adding these two new essential add-ons to scale your e-learning business.
In this post, I will share with you what Gradebook and Notes LearnDash add-ons are and how they can be of great help to you as a course creator and also to your students.
Let's dive in!
Sections:
---
An Overview of LearnDash Gradebook And Notes Add-ons For Course Creators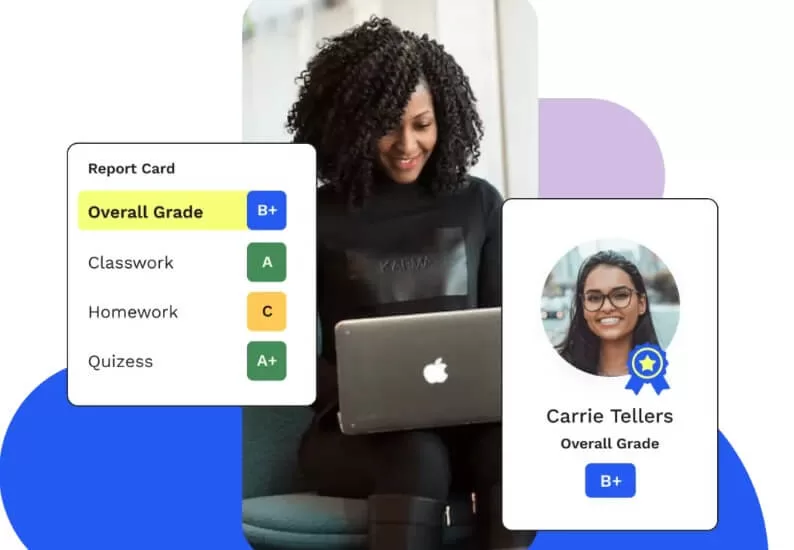 Gradebook by LearnDash is a premium add-on that helps course creators or teachers complete grading capabilities and report cards. It lets you as an instructor track some vital metrics of how your students are performing. These metrics are important for your course success.
With Gradebook, course creators can communicate with their learners via report cards, thereby giving them personalized feedback and helping them stay on track.
Plus, with advanced reporting and analysis tools, you as a course creator can quickly identify areas where your students are struggling and adjust your teaching accordingly.
Benefits of LearnDash's Gradebook Add-on
Gradebook is designed to make e-learning business more efficient and rewarding for course creators and learners. Here are just a few benefits of using the Gradebook add-on by Leardash:
Front-end Gradebook: The ability for course creators or teachers to easily display and interact with students' data.
Front-end Report Cards: The ability to display students' interactive report cards which consist of quiz scores, lesson results and their course grades right in front of them.
Provision of Gutenberg Blocks: This helps to streamline content creation for the instructor gradebook and student report card.
Manual Grade Entry And Tailoring: This lets you control how you display grades using either percentages or letters.
Video: How course creators can use the Gradebook add-on in LearnDash
The LearnDash's Gradebook Add-on's primary usage is for tracking metrics. You can watch the video below for more illustrations or you simply visit this doc link to learn more.
Gradebook Add-on Pricing
The entry price of LearnDash's Gradebook add-on for a single site is $49/year only which is inclusive of updates and support. While the 10-site license and the unlimited-site license cost $99 and $199 per year respectively. This is suitable for web development agency owners.
Existing LearnDash course creators have to purchase the Gradebook add-on separately for usage. It has a 15-day money-back guarantee.
Now, let's see what the Notes Add-on has got to offer e-learning businesses that use LearnDash.
---
What Is LearnDash Notes Add-on?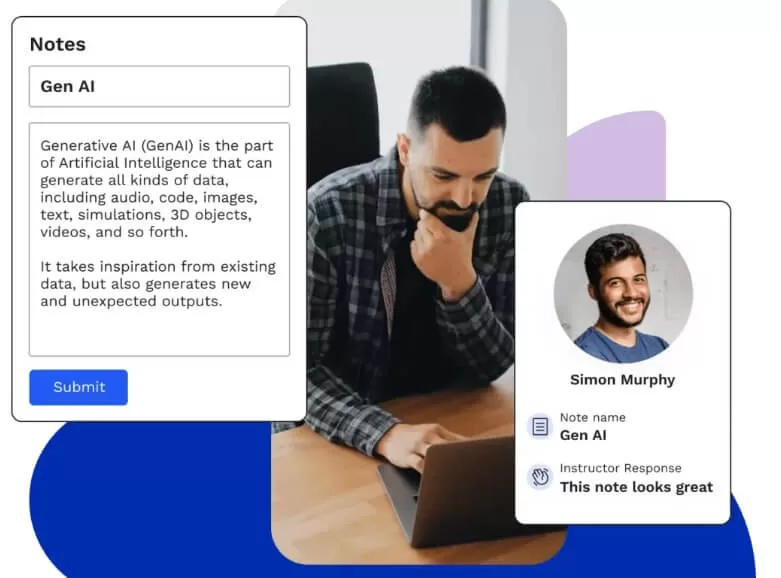 The Notes add-on by LearnDash is a premium note-taking and two-way communication tool that allows course creators or instructors to communicate with students and vice-versa.
With Notes, students can quickly jot down their thoughts and ideas while studying and access them anytime, anywhere. With the ability to share notes with their instructors, students can get valuable feedback and open communication channels to support their learning journeys.
Benefits of LearnDash Notes add-on for course creators
Check out the benefits of the Notes Add-on for LearnDash users:
Flexible front-end implementation: Allows you to add communication tools directly inside LearnDash courses.
Streamlined communication: You can increase interaction between the student and instructor with easy-to-use tools including pop-ups, dashboard tools, and email.
Personalized learning: Students can use notes to highlight important information, summarize key points, and jot down questions.
Notes add-on works with LearnDash to enhance safe and secure communications between course creators, instructors and students.
Video: How to create Notes in LearnDash
Note-taking practices can help improve your students' outcomes via two-way communication. Here's a simple visual illustration that can guide you to implement it in your LearnDash courses. Or perhaps you may as well read the docs if you prefer texts.
Notes Add-on Pricing
The Notes Add-on by LearnDash comes at a premium price which is inclusive of updates and support.
Individual LearnDash users can purchase a single site license for $49/per year. Marketing agencies and web developers can purchase the 10-site license and unlimited site license for $99 and $199 respectively.
Also, the Notes add-on comes with a 15-day money-back guarantee!
---
Summary of LearnDash Gradebook & Notes Add-ons For Course Creators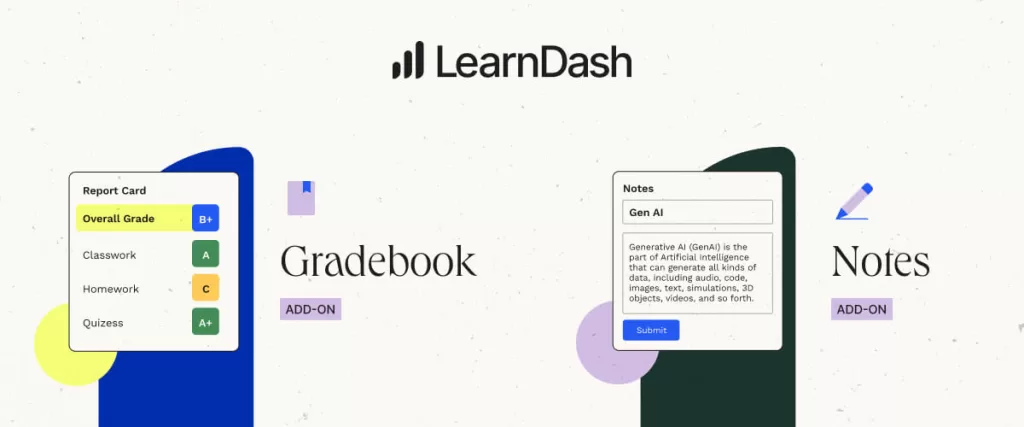 The global e-learning industry is a goldmine. And for you as a course creator to be part of this treasure, you have to adopt every important online learning tool to stay afloat such as the Gradebook and Notes add-ons by LearnDash.
They are awesome and must-have tools for the overall success of any eLearning business.
With Gradebooks' unique metrics-tracking feature, course creators can monitor the progress of their students in the form of report cards, customize students' grades, scale their programs by sharing these reports with students and their families and much more.
Also, the Notes add-on is the perfect complement to the Gradebook premium add-on. With Notes, students can have a deeper knowledge of course creators' curriculums, ask questions from instructors while providing answers, and so on.
This two-way communication feature can help retain more students.
By combining these two add-ons, course instructors can easily track student progress, communicate with learners via report cards, and gain valuable insights into student performance while also empowering learners to take notes, set goals and track their progress.