In today's world, several people spend most of their time online searching for many things to buy to benefit their lives.
And with this in mind, starting an eCommerce business simultaneously on major online platforms such as Google, Facebook, Instagram, Amazon, and WordPress website is paramount for an online salesperson.
Interestingly, there's a smart way to go about selling online with ease on all these platforms at the same time with the help of a multichannel eCommerce platform called Ecwid by Lightspeed.
In this article, we will show you all the benefits of using Ecwid to sell everywhere online, and also how to use Ecwid to create a full-fledged eCommerce on all major online platforms. Let's get started!
All You Need To Know About Ecwid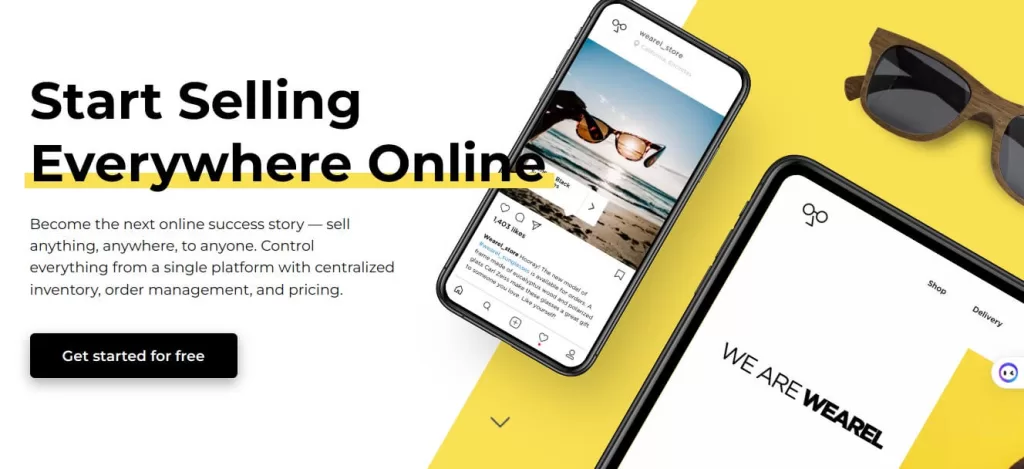 Ecwid by Lightspeed is a full-featured and affordable eCommerce solution that includes web, mobile and social stores. It allows you to sell everywhere on the internet, all on a single dashboard with no hassles.
For a long time now, Ecwid has proven to be one of the best eCommerce platforms for online sellers. The platform is powered by Amazon Web Services with servers globally to ensure your store loads fast no matter where they shop.
Benefits of Selling Everywhere Online With Ecwid E-commerce
✅ With Ecwid, you can include your eCommerce shop on WordPress websites, blogs, and social sites such as your Facebook Page, Instagram, and eCommerce marketplaces like Amazon, eBay, and Google Shopping, and sell simultaneously everywhere. You can add your online store to as many platforms as you want, and manage it from one place.
✅ Today, Ecwid helps market your business with ease when it comes to effective advertisements. You can create low-cost advertisements that drive the right shoppers to your store in minutes. No experience is required. You provide the dream while Ecwid handles the techy stuff.
✅ Ecwid works great on most popular website platforms such as WordPress, Wix, Joomla, Squarespace, Weebly, and so on. Your online store looks perfect on smartphones and automatically adapts to your customer's screen size: laptops, tablets, smart TVs, or smartwatches.
✅ Ecwid will help you get your products and services marketed using the topmost advert networks such as Google, Facebook, Pinterest, and many more.
✅ Unlike other notable eCommerce platforms like WooCommerce, Ecwid provides unlimited storage, automatic backups, and seamless upgrades, even when connected to your WordPress site. Being a Saas platform, your online store data is completely hosted on Ecwid secure servers regardless of the WordPress hosting service you use.
✅ You don't need to worry about software updates, security patches, and server maintenance – Ecwid does that for you. Your online store gets all the new eCommerce features and bug fixes automatically.
✅ Ecwid offers friendly and intuitive support with experts available 24/5. Their support options include email, e-commerce community forums, live chat, and phone support.
Other Advantages of Selling Online With Ecwid Ecommerce
Easy and quick setup.
Over 100 payment providers to choose from.
Supports seamless integrations with apps like Zapier and other best lead generation tools.
Selling simultaneously on major platforms such as Amazon, eBay, Instagram, WordPress etc.
Mobile responsive shopping cart
Android and iOS store management app
Sell subscriptions and earn recurring revenues.
No bandwidth or storage fees.
White-label e-commerce solutions are available.
Powerful apps, tools and extensions to help you grow faster.
Friendly customer support service.
Is Ecwid Free For Use to Start an Online Store?
Yes! Ecwid offers a forever-free plan that's always available with no hidden setup charges or transaction fees. You can sell up to 50 products on the free plan. Get your online store up and running at zero cost.
However, note that you can only sell on Ecwid's online store with the free plan. You won't be able to sell everywhere online with the free Ecwid eCommerce plan.
Ecwid Pricing Plans
As your online shop grows, Ecwid grows with you. When the time is right, we recommend you consider upgrading to one of Ecwid's premium plans to get more robust eCommerce features such as the opportunity to sell on other platforms such as Facebook, Instagram, Amazon, eBay, and more.
How to Build a Single page eCommerce Website with Ecwid
The Starter Site is a single-page website that helps you start selling online on the spot when you do not have your website yet.
Ecwid Instant Site allows you to display your information in such a way that convinces customers to make a purchase. Even a one-page checkout focused on getting more sales. It's transparent, easy to fill out, and collects customer emails right away. It also comes with pre-installed themes.
Instant Site is perfect for you if:
You've just opened your business, and you want to start selling online as fast as possible.
You need a website for your business, but you do not have tech skills.
But the con of using Instant Site is that you can not add extra pages to build a robust eCommerce site. Hence, it is recommended to integrate the Ecwid eCommerce shopping cart right inside your new or existing WordPress website.
To set up a single Ecwid page, Sign up with Ecwid Ecommerce for free. Go to your Ecwid Control Panel → Website and click "Edit Site" to customize.
Ready to start selling everywhere online with Ecwid? Follow the steps below to add the Ecwid eCommerce to your WordPress site and other platforms.
How To Sell On Your WordPress Website With Ecwid ECommerce
If you are just starting, we recommend getting a WordPress hosting account, preferably from Bluehost to create your WordPress website.
And if you already have an existing WordPress website or a blog, you can quickly add an online store to it with technology that instantly mimics your current design.
The next step is to sign up for a free eCommerce account with Ecwid. Then move on to the other steps below.
Visit your WordPress dashboard plugin area to search for, install and activate the Ecwid eCommerce shopping cart plugin and complete the necessary setups on your dashboard.
After successful installation, go ahead and create either a new store or connect your existing Ecwid account. Then, move on to setting up other configurations like your payment gateways and others.
Check out what a demo store looks like on your WordPress website site to configure the Ecwid eCommerce store. Start to add your own live products once you have gotten an idea from the demo store.
To further customize more pages such as Home and About Us pages and more, you may consider using any of the popular site builders to create every section of your product pages on your website.
PS: If you don't have all the time to start creating a website from scratch and setting up your Ecwid eCommerce store, you may want to consider hiring us.
Other Platforms To Sell Your Products With Ecwid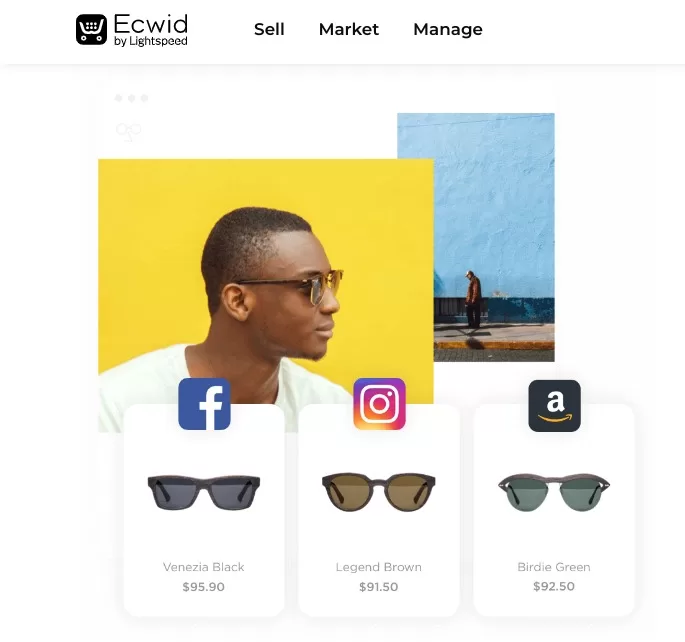 Aside from creating a single-page e-commerce site with Ecwid, Ecwid lets you also sell everywhere on all major online platforms by connecting your Ecwid account to them.
Once your Ecwid account is connected, customers can browse and order directly from their favourite social media channels such as WhatsApp, Instagram Posts, Facebook Shop, Pinterest, and so on. You can even sell on other popular eCommerce marketplaces like eBay, Google Shopping, and Amazon.
With Ecwid eCommerce, you can easily sell anywhere, to anyone across the internet and around the world. Create an Ecwid account and start selling on multiple channels simultaneously from today!
We hope this article helped you learn how to easily sell everywhere online with Ecwid eCommerce.