Small businesses need the best email marketing software solutions in 2023 and beyond to stay in touch with readers, acquire new leads, close sales or deals, and communicate with existing customers.
Email marketing is much more effective than reaching out to your audience on social media alone. It can help improve awareness, conversions, and retention when used well.
As a digital marketer, you must integrate email marketing with other marketing channels or platforms for reaching out to prospects if you want to convert them into potential customers over time.
Overview of Email Marketing for Businesses in 2023
Email Marketing is a must-have online marketing strategy to adopt in this present digital landscape. It has numerous benefits for businesses of all sizes. Businesses can leverage email marketing for growth and customer engagement.
Whether you are a small, medium or large business owner, you can use email marketing to achieve the following:
Build an email list of new prospects or leads.
Convey information to your customers, such as business news and updates, upcoming promotions, discounts, and giveaways.
Send email newsletters to prospects, friends and associates, customers, and other segmented contact lists on a periodic or regular basis to perform required action.
Set up different types of customized email marketing campaigns automatically to target different audiences.
Reduce cart abandonment rate for e-commerce businesses.
10 Best Free & Top-Paid Email Marketing Solutions for Businesses in 2023
There are several email marketing service providers out there, but we will only recommend just a top few of them that we believe can give you the best solutions for your business needs, whether you are a startup or an existing enterprise.
Here's a comprehensive list of reliable free and top paid the best email marketing software solutions for all sizes of businesses.
HubSpot is an all-in-one marketing tool for all types of businesses. The email marketing software is designed for both WordPress site owners and non-WordPress users. Hubspot lets you achieve your main marketing goals with ease using the latest technology features like the Service Hub, Marketing Hub, Sales Hub, CMS Hub and Operations Hub.
With HubSpot Free Email, you can:
Grow, nurture and convert leads with lists and email.
Send contacts a catchy, effective and personalized email.
Measure impacts with reports.
Create opt-in forms and popups on your website in minutes using the intuitive drag-and-drop builder.
Organize, track, and nurture your leads in your free HubSpot CRM.
Automatically sync your WordPress website forms with your HubSpot CRM.
Add live chat to your website and easily engage & help your site visitors.
Add 24/7 chatbots to your website to help automate lead capture and support.
Pricing: Hubspot has various pricing plans with different marketing solutions for small businesses and large enterprises. You can create a forever-free HubSpot account to start with and then upgrade to any plan starting from $18/mo to begin enjoying premium features.
AWeber is one of the best and oldest email marketing and automation solutions for anyone who wants to make the most out of marketing. AWeber happens to be the first email service provider to infuse Canva into its drag-and-drop builder to create stunning images without leaving the dashboard.
This means Canva users will find it a lot easier to create their graphic designs inside their Aweber dashboards and send email campaigns on the go.
Other benefits of using Aweber include:
Thousands of email templates to choose from.
Creation of fresh email templates with website URLs or Facebook pages.
Unlimited high-stock images
Custom signup forms and landing pages to row email lists.
Usage of a custom domain.
Newsletter automation
A/B Slit test
Unlimited integrations with WordPress and many more.
Here are a few reasons why AWeber is worth every single penny:
Unlimited lists and unlimited email sends. There are no restrictions on how many times you send emails to your audience. 

Understand your audience better. Create and send to custom audience segments so you can share messages and promotions that speak to the specific needs and interests of the different people in your audience.
Improve audience engagement. Learn who is opening your messages, who is clicking, what they're clicking on, and how your list is growing. Split-test different variations of sign-up forms, subject lines, and email content, so you can make better decisions about your business and marketing.
Drive sales with cart abandonment & personalization. Trigger an automated cart abandonment campaign with tags, add click and open automations to your broadcasts, and send personalized messages based on which pages of your website your subscribers visit, and what they clicked on or purchased.
Track sales and web traffic. See which pages of your website your subscribers visit, and track when they purchase your products and services. 

And so much more!
Pricing: AWeber remains one of the most affordable email tools on the market. AWeber is very affordable to use and comes with rich-free features to get started with. Aweber has a free plan that lets you start with 500 email subscribers while you upgrade as you scale to other plans starting from $14.99 and above.
ActiveCampaign has one of the best customer experience automation features. It gives you the email marketing, marketing automation, and CRM tools you need to create incredible customer experiences.
ActiveCampaign also gives you the best email marketing solutions if you're running an eCommerce business, or you're operating a B2C or B2B firm. It integrates seamlessly with most e-commerce platforms like Shopify, WordPress, WooCommerce, and Salesforce app.
ActiveCampaign key features:
Has an easy-to-use drag-and-drop builder for setting up email campaigns faster.
Helps you reach and engage your customers using subscription forms, landing pages, segmentation lists, and many more.
Helps you nurture and educate your leads with automation, text and message, event tracking, and many more.
You can easily convert and close sales with CRM tools, advanced reports, integrated forms, and so on.
Supports over 870+ apps that will enhance the growth of your business
One-on-one support and grow your business with other exceptional tools such as adding a conversation live chat to your website, web personalization, split testing, and lots more.
Offers FREE migration services for users on other platforms.
Pricing: ActiveCampaign has simple pricing plans starting from $29 with no setup fees to help you kick-start your email marketing campaigns.
GetResponse also works just like ActiveCampaign. They've got awesome features to take your business to the next level in the world of email marketing. GetReposnse offers exceptional email marketing services that help grow your business needs.
GetResponse key features:
Email Marketing basics, which lets you build converting campaigns with autoresponders for follow-ups, analytics that reveal how your campaigns are doing, and so on.
Landing pages for creating standalone email campaigns, signups, and popups with other tools suitable for your business.
Web push notifications for website owners that help bring back more people to your site with unlimited notifications and detailed analytics.
Marketing automation for eCommerce businesses which helps in reducing abandoned carts is also used for product recommendations and lots more.
Webinar features that help you converse with your customers online anywhere through screen sharing, polls and surveys conducting, etc.
Live Chat features customizable tools that help you communicate with your audience online via your website.
Paid Ads features Facebook & Google ads that let you create and manage ad campaigns right from your dashboard.
And guess what; you can try all these amazing GetResponse features free for 30 days with no credit card required.
Pricing: GetResponse allows interested users to sign up and send free email newsletters to up to 500 contacts and up to 2500 newsletters per month. GetResponse pricing fee starts from $15.58 per month with a list size of 0-1000 emails. And you will certainly get an 18% or 30% discount when you pay one year in advance.
MailMunch is one of the best modern email marketing solutions whose target is to help small businesses easily grow with their latest lead generation and conversion tools. This platform is suitable for you whether you're starting an eCommerce business or you're into offering different kinds of services.
With MailMunch, you can easily collect emails and convert your website prospects into lifetime customers. You can get started right away with the basic tools which are free and take less than five minutes to set up.
Why MailMunch?
The features of MailMunch are quite exceptional. And you don't need to have a website to start using it. You can create beautiful landing pages from scratch or choose from ready-made templates to sell your products and services. The best part of it is that you can have it connected even with your custom domain and so much more.
MailMunch email marketing solutions are best for all kinds of entrepreneurs and very affordable to start with. You can get started completely for free with MailMunch's basic tools.
Here's what you can achieve with MailMunch:
Capture unlimited email subscribers with a free plan
Use well-designed forms and different popups to attract site visitors
Create converting landing pages to collect emails during ad campaigns
Send occasional or regular newsletters to build conversions
Create automated welcome emails and drip campaigns
Boost sales with coupons and spin-wheels that win customers for life
MailMunch is one of the email marketing platforms that melt our hearts with their simplicity and yet fully robust solutions. It's fully customized and mobile-friendly.
Pricing: As we mentioned above, MailMunch allows you to start using its basic tools for free. The only downside with their free plan is that it comes with MailMunch branding. If you need to get rid of MailMunch's branding in your emails and also more essential tools to get more leads from your existing traffic, then consider an upgrade that starts from $13.99/month paid annually and above.
To cap it all MailMunch has 60 day refund policy. This means – that if you're not down with their first month of services, they will happily refund 100% of your money, no questions asked.
MailPoet is preferably the best newsletter platform for WordPress sites. It enables small business owners with WordPress blogs and websites to send emails to their leads and existing customers directly from their WordPress admin dashboard with ease. Every email creation and sending is done without leaving your WordPress dashboard.
With MailPoet installed on your WordPress site, you don't need an external email service provider to power your daily, weekly, or monthly newsletters or campaigns – as the case may be.
Your mail gets delivered in no time to your subscribers' inboxes and not spam boxes. No bouncing back with mail daemon. Let's see why MailPoet is highly preferred amongst several other email service providers.
Pricing: MailPoet offers free premium features, which are completely free to use if you have 1,000 subscribers or fewer. This is a good bargain for WordPress startups that are just starting to grow their email database.
When your email list hits more than 1000, then you can decide to migrate to MailPoet's flexible plans. Little wonder why they've got over 300K+ installs as of publishing this post.
So Why is MailPoet among the best email marketing solutions for businesses?
Easy communication setup via WordPress newsletters.
Ready-made email templates.
Send unlimited emails with MailPoet Sending Service.
List segmentation and WordPress signup forms.
Send welcome email series and latest post notifications.
Supports WooCommerce with automation of abandoned cart emails.
Automatically sends a 'thank you' message to first-time customers.
Easy migration and importation from other email service providers.
GDPR Compliant.
24/7 customer support.
One of MailPoet's premium features for WooCommerce businesses is clear ROI and metrics, which allows you to see the number of purchased items, and open and click rate data right from the dashboard.
With this info in your palm, you can monitor advanced analytics to learn more about your users and also know how to optimize your emails for high-rate conversions.
Omnisend is a fully robust email and SMS marketing software with rich features put in place to grow your eCommerce sales and other online businesses.
With Omnisend, you can create way more than email newsletter campaigns to boost your sales. You can set up automated emails, segmentation, SMS integrations, web push notifications, and more to get high open and click-through rates.
Do you want to reduce abandoned cart rates and get higher conversions? Go for Omnisend. The platform has amazing features that will skyrocket your sales within a short period time of usage.
Omnisend features include:
Pre-built automation for cart abandonment, welcome series, and other transactional emails.
Works seamlessly with popular eCommerce platforms such as Shopify, BigCommerce, and WooCommerce.
Very rich and easy-to-use content editor.
Unlimited Email templates to choose from.
Segmentation feature that improves conversions with well-targeted, personalized emails and texts.
Worldwide SMS marketing integrations with newsletters, segmented email campaigns, and more.
Email A/B test features to know what works best.
Unlimited popups and forms.
Audience sync for Ads.
Reports and analytics.
Reach more customers with web push notifications and text messages.
Retarget customers' contacts with Google Customer Match built-in integration.
Facebook Ads retargeting for extra reach on Facebook and Instagram.
Easy switch to Omnisend from other email service providers.
24/7 customer service support
Pricing: Omnisend offers contact-based billing plans with all premium features. If you are looking to explore Ominisend, you can try the free plan which gives you 250 contacts and allows you to send up to 500 emails per month, plus 60 SMS credits, web push notifications, and much more.
Ominisend's free plan offer is quite beneficial for new startups who are just starting to build their email lists. Also, the free plan requires no credit card used during signup. While other plans are from $16 and above.
Drip is a robust email marketing service platform that lets you build your business brand from customer acquisition to customer retention with the latest tools.
Drip's core marketing tools include customizable forms to help you grow your email list, and a rich drag-and-drop newsletter builder to let you send emails with ease and turn your leads into potential customers.
Other Drip's features include;
SMS and automation
List segmentation
Analytic reports
A/B split testing
Countless integrations with popular apps
eCommerce integrations with Shopify, Magento, WooCommerce, and BigCommerce
Free learning hub
Pricing: Drip offers flexible pricing plans based on the number of contacts you have starting from $19 which allows 500 contacts with unlimited email sends and support. It also comes with a 14-day free trial period and no credit card is required.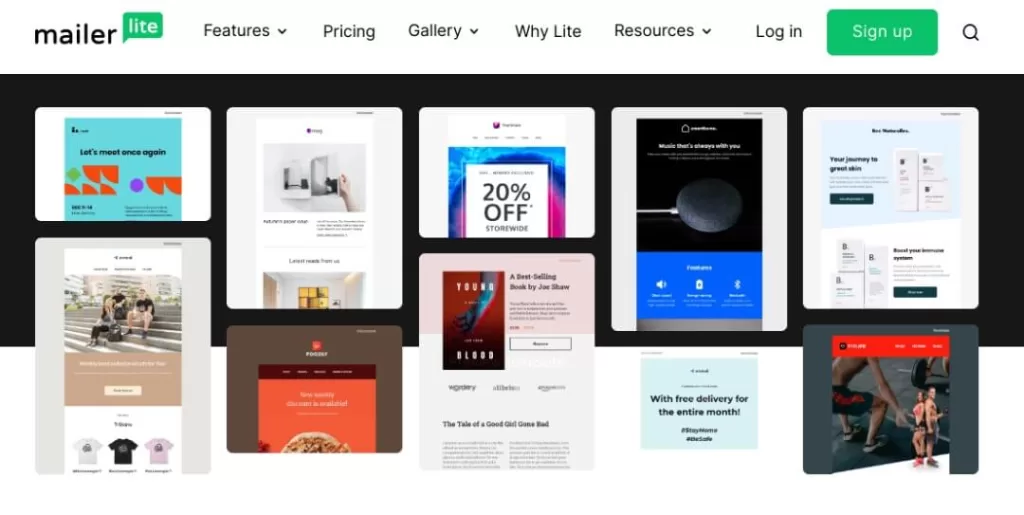 MailerLite lets you create email marketing your audience will love. MailerLite is built with rich marketing features beyond just sending email campaigns or newsletters. This makes it one of the best and complete email marketing solutions for businesses. Mailerlite features include;
Sending perfectly timed and targeted emails automatically with Automation processes.
Designing top-notch emails with a richly built drag-and-drop editor.
Personalizing emails to build stronger customer loyalty.
Building stunning websites and blogs for the promotion of brands, goods and services.
Collection of leads through the use of landing pages and signup forms.
Clean and optimize email lists to improve deliverability.
Selling digital products and e-commerce integrations.
Offering paid newsletter subscriptions and much more.
Pricing: MailerLite has reasonable and affordable pricing plans for all sizes of businesses. Startups can use MailerLite's free pricing plan which accommodates up to 1000 subscribers and lets you send up to 12,000 newsletters per month. While other plans start from $9 and above.
10. Mailchimp
MailChimp helps to make marketing easier and more profitable for small businesses with its All-in-one marketing platform.
The email marketing company with over two decades in existence has got powerful artificial intelligence and machine-learning software tools that help you streamline the process of creating, managing, and optimizing integrated marketing campaigns so you can maximize your efforts the simple way.
With Mailchimp's multichannel marketing platform, you can manage your business in one single place to save you time and money. These channels include email, landing pages, websites, eCommerce integrations, CRMs, API, real-time analytics, A/B Testing, and much more.
Mailchimp is certainly built for starting businesses and is user-friendly with pre-built templates, segments, and automation which means you can click and go – No coding or design skills are required.
As part of our marketing services, you can request a customized Mailchimp all-in-one marketing setup to grow your business and improve your ROI. Kindly get in touch.
Email Marketing Automation Pros & Cons
What do these email service providers have in common? There are several of them, but we will only concentrate on one major feature, which most online marketers often use, and that is Email Marketing Automation.
Email Automations allow you to scale your business faster thereby helping you increase your ROI.
You can automate your emails to give you more time to do other stuff about your business. This makes sense, especially for individual business ventures. We advise startups to take advantage of this feature if they are starting and don't have many teams in their business.
However, the con of this practice is that over time, your customers won't get an exceptional customer experience, which is one major factor to always consider. Customers tend to buy more from you and also share your juicy deals with their friends ONLY when you relate with them well during the entire sales process.
The Best Email Marketing Solutions With The Perfect Automation For Businesses
If you are looking to make the best out of email marketing automation, we recommend using any of the following email marketing service providers below:
They rank among the best email marketing solutions for new and existing businesses as far as automation is concerned. Their sales automation features are designed to help simplify your business so you can concentrate on your customers.
Start driving your sales and marketing efforts on autopilot and drive more revenue with any of the above-recommended email marketing platforms. Say goodbye to time-consuming tasks and hello to next-level marketing automation. Drive engagement and increase customer loyalty without lifting a finger.
Best Email Marketing Solutions FAQs
Conclusion on Choosing the Right Email Marketing Solution for Your Business in 2023
As we said earlier, you can't go wrong with using Email Marketing to grow your businesses when done correctly. Email open rates are on the rise most especially on mobile devices. It is guaranteed to give over 100% ROI over time, depending on what platform you decide to start with.
Email marketing can stand alone. But when combined with social media like Facebook and LinkedIn, (which are one of the main sources of getting potential buyers), alongside some tested and proven tools like OptinMonster to grow your email list, then your business is bound to flourish like that of a palm tree planted by the riverside.
Start leveraging any of the above-mentioned email marketing platforms by engaging your customers and boosting your sales. We encourage you to start small and grow big with time. It's always never too late.
PS: Do not hesitate to contact us, If you have signed up with any of our recommended email platforms and you need some setup help along the way. Take advantage of our email marketing services offers if you want faster setups.
We hope that you find our email marketing recommendations helpful, especially if you're a business on a tight budget looking to begin with email marketing.