Both savvy and newbie marketers with WordPress websites need at least 1-2 of the best online invoicing tools or software to generate invoices for their customers before, during and after the completion of a sale, work or project.
The best part is that you can raise a quote or an estimate and finally issue an online invoice to your clients in no time.
In this article, I will list some of the best WordPress invoicing tools that can help you scale your online business with ease as far as invoicing or client billing is concerned.
Ready? Let's dive in!
Introduction To WordPress Invoicing Tools
WordPress Invoicing tools are plugins solely designed to cater to freelancers and e-commerce owners who issue online receipts to their customers.
The invoice plugins easily let WordPress website owners raise quotes, estimates and invoices for customers without the need to use any external invoicing software.
Other features of WordPress Invoicing tools include:
CRM (Customer Relationship Management) activities
Management of online and offline transactions
Electronic payment integrations
Sending one-off and recurring invoices
Scheduling of tasks and more!
---
Benefits of Using WordPress Invoicing Tools
These days, WordPress-based businesses need the best invoicing tools to carry out swift tasks to keep customers. Some notable benefits come with this.
Using invoicing tools from your WordPress dashboard enables you to:
Create customizable online and PDF invoices.
Improve your business workflows with automated tasks.
Send quick and simple estimates to customers via email.
Manage your financial projects from a centralized hub.
Easily collect one-off or recurring payments via your preferred payment methods like PayPal, Stripe, etc.
Integrate your financial activities with CRM apps.
Having explained the benefits of using invoicing tools on your WordPress blogs and websites, let's see some of the best Invoicing tools any WordPress site owner can use.
---
What Are Some Popular WordPress Invoicing Tools?
Some popular WordPress invoicing tools include WPForms, Sprout Invoices, Sliced Invoices, and WooCommerce PDF Invoices & Packing Slips.
Each tool has its unique features and capabilities, so be sure to research each one to find the best fit for your business.
While there are several standalone and cloud-based invoicing tools in the market, I will only be listing the best ones that work with WordPress including their features.
Here are the top 3 invoicing tools or plugins WordPress site owners can use.
Sprout Invoices is one of the best and most recognised invoicing tools for WordPress websites.
The WordPress plugin which currently boasts over 2,000 users and 5-star ratings has several unique features and quite a good number of other business apps that enhance productivity.
With the Sprout Invoices plugin on your WordPress site, you can;
Create and send unlimited invoices and estimates to clients.
Store unlimited contacts in the Sprout app lead management tool.
Use different stunning invoice templates to generate invoices.
Receive payments from over 140 payment gateways like Paypal, Stripe, Paystack, etc.
Use an optimized Woocommerce checkout to process faster payments.
Integrate invoices with over 5000 apps on Zapier.
Accept deposits, one-off and recurring payments.
Attach PDF Generated invoices to emails.
Clone existing quotes and invoices for re-use.
Use digital signatures.
Easily migrate from other existing invoicing tools.
Pricing: Sprout Invoices has a free limited version you can always try before upgrading to the pro versions. Pro versions start from $39.50/year and above with a 14-day money-back guarantee.
---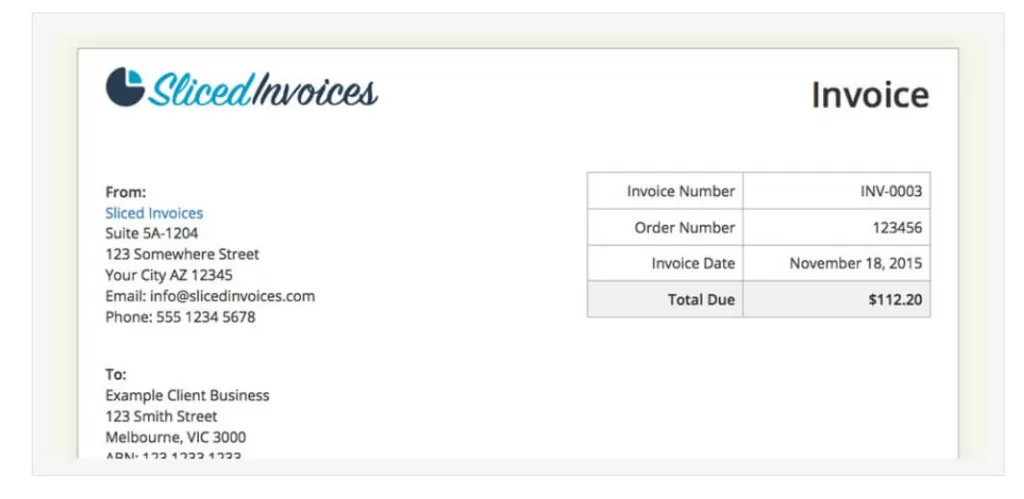 Sliced Invoices is an easy-to-use WordPress invoice plugin that enables you to create professional quotes and invoices your clients can pay online.
The Sliced Invoice plugin works with both WordPress and WooCommerce websites and currently has over 7000 users with decent ratings in the repository.
With a wide range of free and paid extensions available, you are assured of creating flexible invoices your clients will love and respond to with immediate payments.
Check out some of the cool features that make Sliced Invoices distinct.
Create unlimited quotes and invoices with pre-defined lines of items.
Choose invoice templates or designs from scratch.
Manage your clients from a robust dashboard with detailed overviews.
Concise report overview
Use global tax rates.
Charge clients in different currencies.
Collect one-off and recurring payments via invoices.
Pricing: Sliced Invoices has a core and free version which only supports limited features. To enjoy unlimited pro features, you must upgrade to plans starting from $79/year and above with a 30-day money-back guarantee.
---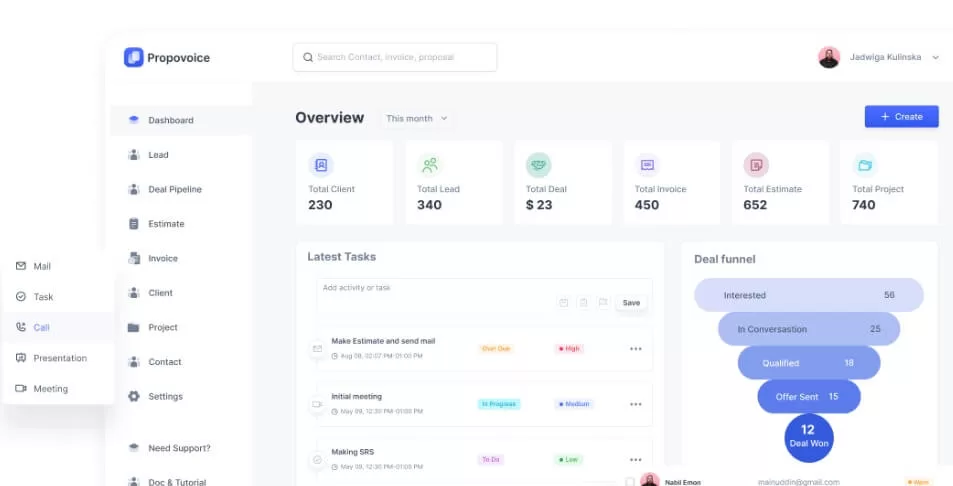 Propovoice is more than just a WordPress invoicing tool. It combines some CRM features that make it exceptional in demand.
The self-hosted WordPress plugin is an ideal invoicing tool used by freelancers, entrepreneurs, and service agencies to manage leads, clients and billing automation all in one place.
Although the invoicing tool with CRM features is a new entry plugin with over 600 users and 10 five-star ratings, it is loaded with exceptional features aside from sending invoices and estimates to clients.
Other features include:
Smart pipeline module that helps you protect leads and manage deals.
An insightful dashboard for monitoring all activities.
Client's Action triggers like Accept, Reject, Pay, etc.
Sales revenue overview.
Local currency support.
Share, download, and email to clients
Paypal, Stripe and WooCommerce payments support.
project management and much more.
Pricing: Propovoice has both the free version and the paid version which costs $59/year for a single site license with a 30-day refund policy.
---
Finally, Which WordPress Invoicing Plugin Should You Use?
The WordPress ecosystem gives room for rigorous competition among software developers and the all-in-one plugins always attract more users than the lesser-featured ones.
Having observed this trend, I advise WordPress users to often try the free versions of most of the plugins we recommend, as this will help them determine the one that suits their type of business.
These WordPress Invoicing tools (Sprout Invoices, Sliced Invoices and Propovoice) are currently the best for all small businesses like freelancers, business owners, agencies, bloggers, designers, developers, photographers, and everyone else who wants to send quotes, invoices and collect payments through their WordPress-based websites.
---
FAQs on The Best WordPress Invoicing Tools To Scale Your Business