Directly connecting with your audience and increasing monetization opportunities can be achieved through creating a membership site.
Read on if part of your goal in 2023 is to float a new membership site with WordPress or convert existing visitors on your WordPress site into paying customers by offering access to e-learning opportunities and other exclusive information.
Several online communities like churches, schools, and other institutions already have membership sites for teaching new topics, offering digital downloads, awarding free certificates after completing online courses, and much more.
Whatever your goal is, you can do the same and make money with a membership website.
This guide will walk you through on how to start your membership site with WordPress in no time.
Ready? Let's get started!
---
What Is A Membership Site?
A membership site is an online platform that offers exclusive information access to its users or visitors regularly in exchange for a subscription fee for a certain period.
Usually, new website visitors and existing customers are persuaded to sign up (for free or for a fee) to access important information not meant for the general public.
Users are often charged monthly, quarterly, or yearly membership subscriptions depending on the type of content offered by publishers or bloggers.
Why Create a Membership Site With WordPress?
WordPress is currently the most widely used content management platform for creating all kinds of websites including membership sites because of its user-friendly interface and comprehensive features.
Also, content creators and other small business owners feel the need to restrict some information on their websites to the general public or visitors. The major reason for this idea is content monetization, hence, the need for them to set up a gated content system.
A perfect example is Entrepreneur.com – an exclusive business magazine offering paywall content for a monthly subscription of $5.
---
Exploring the Benefits of Creating a Membership Site with WordPress
Creating a membership site with WordPress has a lot of benefits. If you create content on a regular basis, you can do a whole lot with a membership site built with WordPress such as:
Offer online courses in any expert field, for example, a parenting website, online dating site, music band site, nutrition site, and so on.
Paywall any content for recurring revenues.
Give online shoppers VIP access to exclusive content after purchase.
Create and monetize online discussion forums for your memberships.
Create and monetize private podcasts.
Connect LIVE with your fans turned subscribers for live shows, events, webinars, etc.
Offer your paid memberships access to downloadable files such as music, videos, etc.
With a richly-built membership site, there's no limitation to achieving the best content monetization practices. With these benefits outlined, let's move on to how to create your desired membership site.
There are some membership plugins in the WordPress repository, but we recommend one of the best WordPress membership plugins – MemberPress.
---
Introducing MemberPress: The Best WordPress Membership Plugin For Content Creators
MemberPress is an all-in-one membership software and a WordPress plugin for creating membership sites that accept credit cards securely, sell online courses, control who sees your content, sell digital downloads, and much more, all without the difficult setup.
MemberPress works in conjunction with the most popular CMS tool – WordPress, for creating all types of websites. In other words, you can successfully create a membership site on a new or existing WordPress site because of its easy integration.
Currently, the MemberPress plugin is used by thousands of successful WordPress-based membership sites. Start an online course or membership site with MemberPress. Say goodbye to the 9-5, and say hello to the freedom of being your boss!
If you're looking to build a business out of your membership site by creating paid memberships, there's no better way than to use MemberPress.
---
Benefits of Using MemberPress On Your WordPress Site
There are numerous benefits attached to using MemberPress for creating a full-fledged, money-making membership site. MemberPress lets you achieve the following;
Start charging your subscribers for subscription fees before accessing exclusive or gated content.
Create, manage and track membership subscriptions.
Supports third-party integrations like email newsletters, CRM tools, payment gateways, etc.
Sell digital downloads and other products with ease.
Paywall your content with ease.
Powerful access rules – which allow you to protect your content and restrict access to some pages on your website.
Easily build and sell online courses with built-in LMS features.
Send great reminders to users to increase signup rates and boost revenue.
Run promotions with coupons and giveaways to grow your membership site.
Build premium community forums seamlessly with BBPress, BuddyPress, etc.
Integrate seamlessly with popular WordPress LMS software – LearnDash.
Create simple pricing pages for your membership products with no CSS or HTML code required.
WordPress theme compatibility – Use MemberPress on any WordPress theme.
Content dripping features.
Regular updates and security features.
24/7 customer support.
Now that you have seen all MemberPress' benefits, it's time you learn how to download, install and activate the membership plugin. Make recurring revenue your real resolution with MemberPress – the All-In-One WordPress membership plugin for 7-figure creators.
The next section explains how to create a membership site with WordPress using MemberPress.
---
How to Create A Membership Site With MemberPress In 5 Simple Steps
Creating a membership site with MemberPress is pretty simple, especially with ReadyLaunch– a unique built-in page builder which automatically creates your membership pages with a click of a button.
Here are 5 steps to carry out:
Step 1: Purchase A WordPress Hosting And A MemberPress Package
If you are starting from scratch, you need two required tools. First, you will need to purchase a WordPress hosting plan to create a WordPress site and secondly, a MemberPress package. And if you already have a WordPress site, you can go ahead to purchase only the MemberPress package.
MemberPress Pricing: Note at this stage, you will be required to subscribe to a MemberPress package to enable you to download the premium plugin to your WordPress site. The minimum premium package costs $179.50 per year for a single site and a 14-day trial period. If you aren't satisfied during this period, you can request a refund.
Step 2: Install MemberPress on Your WordPress Site
After purchasing your desired MemberPress package, you can log in to MemberPress and download the zip file for the plugin. Next, follow these simple steps to install and activate MemberPress. It only takes a minute!
Login to the WordPress dashboard on your site.
Head to Plugins >> Add New >> Upload.
Choose the memberpress.zip file you downloaded earlier.
Click "Install Now".
Insert your activation key and click "Activate Plugin"
Click on the ReadyLaunch tab to create stunning MemberPress pages.
Once MemberPress is activated, now use this menu to configure your membership site.
Step 3: Create Courses on Your Membership Site With MemberPress
Once the MemberPress is installed and activated, head over to Memberships >> Add New and create your first membership course or courses as the case may be.
Say, for example, you can name it Premium, and then tag the price at $39.99 in the price section. After that, you go ahead and set your membership terms in the right-hand section, such as Billing options and content access to either yearly, quarterly, or monthly.
You can add a trial period as well. This convinces your members whether your course is worth the price or right for them to take or not.
These settings are dependent on the type and model of courses, you are offering to your members. Once you are through with the course setup, then click publish to go live.
The next phase will be to set up rules to paywall your premium content. On your WordPress membership site, you can create different types of rules for your type of content with ease such as video pages, articles, posts, and so on.
For more details, check out how to set up rules for protecting your membership site content.
Step 4: Add Membership Courses To Your WordPress Menu
It's pretty simple to add your membership courses to your WordPress site menu for easy access by your members. In your WordPress dashboard, simply visit the Appearance >> Menus section. This takes you to the menus dashboard as seen below.
Once you are there, scroll down to where you will see the membership courses you've created. Tick and add them to the list of menus. You can also edit their label names with whatever names you want and click the save button.
Step 5: Add Important Pages to Your Membership Site With MemberPress' ReadyLaunch Addon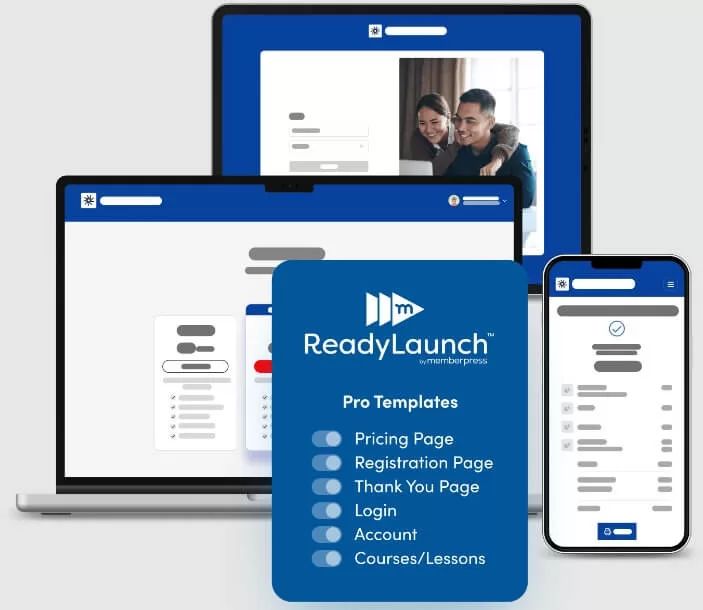 Now that you've created your membership course and protected your content with rules, the next is to add user some important pages using the ReadyLaunch tab for easy access by your subscribers or members.
With the MemberPress' ReadyLauch addon feature, you can create beautifully designed and mobile responsive pages without any coding knowledge. This fastens the process of creating a professional-looking membership site to less than 60 minutes. The pages include:
Login, Registration and Checkout pages.
Branded and organized Account page for members
Pricing page.
Customizable Thank You page
Courses and Lessons pages.
There you go! Your new membership site with MemberPress is ready!
Start exploring more ways to grow your business as you learn how to create, manage and monetize a rich membership site on your WordPress website.
PS: Looking for expert help to set up your membership website? Request a free quote.
---
FAQs On How To Create A Membership Site With WordPress