As a social media marketer or business owner, it is crucial to stay ahead of the curve by exploring and utilizing the best management tools to promote business growth. The key to building a strong presence across all social media channels is to consistently post content that resonates with your target audience.
Social media marketing is a highly effective form of digital marketing that is used by over 4.7 billion people across the globe.
Social media posts have a greater impact on consumer purchases than any other digital channel. It is projected that social media will continue to play a critical role in shaping content marketing strategies in 2024 and beyond.
In this post, I will share some of the best social media management tools you should use now and in the coming years. But before we delve into that, let's first understand what social media management entails and how it can assist in growing your small business.
Table of Contents
---
What is Social Media Management?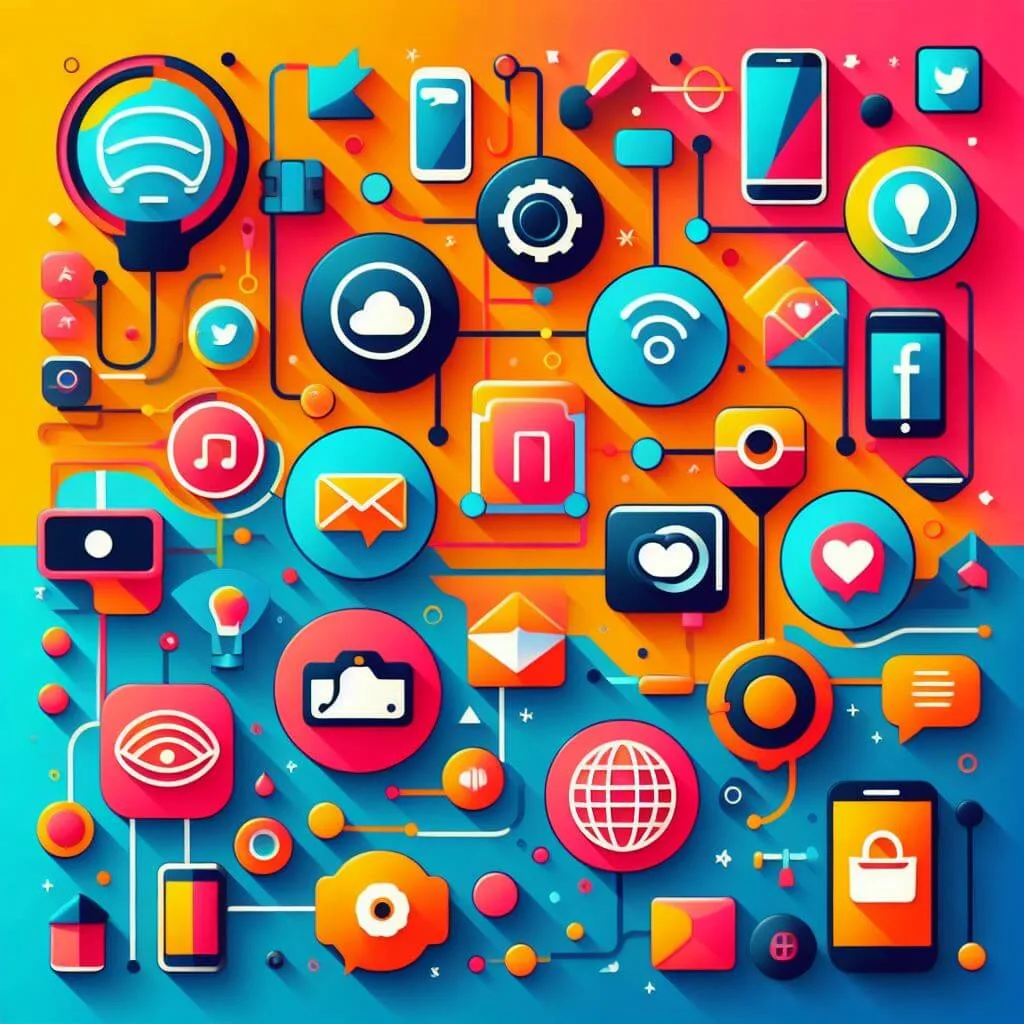 Social media management is a comprehensive process that involves creating, scheduling, analyzing, and engaging with content on various social media platforms. It is crucial for building and maintaining an online presence for individuals, businesses, or organizations.
This multifaceted approach includes performing various tasks and responsibilities to achieve specific goals such as brand awareness, audience engagement, lead generation, and customer support.
Proper social media management is essential for realizing the full potential and power of social media.
Benefits of social media management tools include:
Content Creation: Social media managers can use tools to develop and curate content that resonates with their target audience. This may involve creating text, images, videos, or other media to be shared on platforms like Facebook, Twitter, Instagram, LinkedIn, and more.
Scheduling and Publishing: Social media posts are often scheduled in advance to ensure a consistent and timely presence. Various free and paid scheduling tools are used to automate posting at optimal times.
Audience Engagement: Engaging with followers, responding to comments, messages, and mentions, and fostering meaningful conversations are crucial aspects of social media management. This helps build relationships with the audience.
Analytics and Insights: Monitoring the performance of social media efforts through analytics tools allows social media managers to assess the impact of their strategies. Metrics like likes, shares, comments, click-through rates, and conversions are analyzed to make informed decisions.
Social Media Advertising: Paid advertising campaigns on social media platforms, such as Facebook Ads or Instagram Ads, are often managed by social media professionals to target specific demographics and maximize reach.
Collaboration: Social media managers often work closely with other departments like marketing, public relations, and customer support to ensure a cohesive brand presence across all channels.
The 5 Most Useful Social Media Management Tools to Help Your Company Thrive in 2023
Here is a list of the top 5 social media management tools specifically designed to help small, medium and large enterprises grow. I will describe their features and prices so you can choose the one that suits your business scope and budget the best.
RelateSocial (owned by Namecheap) is an easy-to-use tool that can help you manage your social media accounts automatically.
With RelateSocial, you can easily manage all your social media accounts from a single, powerful dashboard. Whether it's your clients' accounts or your own agency's social media accounts, you can manage them all efficiently.
Furthermore, you can add multiple accounts to your RelateSocial subscription, which allows you to schedule content to auto-publish, find new customers, reply to comments, and share content with ease across Facebook, Instagram, LinkedIn, Twitter, and Google Business Profile.
Key Features of RelateSocial
A simple dashboard to manage all social media accounts.
Schedule content to auto-publish, find new customers, reply to comments, and share content — in seconds.
Provides insightful reporting to help you improve your marketing strategies.
AI-generated posts
Create Custom AI images
Free media library
RelateSocial is best suitable for solopreneurs, small business owners, freelancers and mid-sized marketing agencies.
Pricing: You can try RelateSocial's Free 30-day trial. Paid plans start from $3 and $10 per month.
Zoho Social is a widely used social media management software, especially by popular brands. It offers an intuitive platform for businesses of all sizes to effortlessly manage their social media accounts – all from a single dashboard.
It is not surprising that Zoho Social has been rated as the best social media management software of 2023 by Forbes Advisor and other reputable rating websites like Capterra.
If you want to leverage social media to grow your business, Zoho Social is an excellent choice. Let's explore why Zoho Social stands out among other social media management tools.
Key Features of Zoho Social
With Zoho Social, you get to access these outstanding features:
Image editing, Content planning and scheduling tools for single and bulk posts.
Monitoring of core keywords, brand hashtags, product reviews, and more across social media channels.
Ai Analytic tools to help you measure and understand your social media campaigns better.
Collaboration tool for clients and in-house teamwork.
Integrations with Zoho CRM, Facebook Ad leads, LinkedIn Ad leads, and Canva.
zShare to help you create tailored posts for each social channel.
And much more.
Pricing: You can try Zoho Social's free 15-day trial, while paid plans start from $10/15 per month*.
HubSpot Marketing Hub provides a suite of powerful tools to support business growth. It is designed to help business owners boost revenue, save time and resources, and effectively measure and optimize their investments, all on one user-friendly platform.
Among the many features offered by HubSpot's marketing hub is its social media marketing software, which enables users to establish and manage successful social media accounts.
Businesses worldwide highly regard this all-in-one marketing tool due to its effectiveness. However, its cost can be a drawback for some small business owners.
Nonetheless, it is one of the best tools available for serious-minded businesspersons. It's worth noting that accessing social media management tools requires a HubSpot Professional or Enterprise plan.
Features of HubSpot's Social Media Management Tools
Manage all your social media channels and create campaigns from one central location.
Track core keywords and mentions on the go.
AI-powered social post generator and content scheduler.
Teamwork collaboration tools.
Analytic dashboard for social reports.
CRM Integration and much more.
Pricing: HubSpot Marketing Hub starts at $800 per month. You can also try the demo out to see if you'll like it.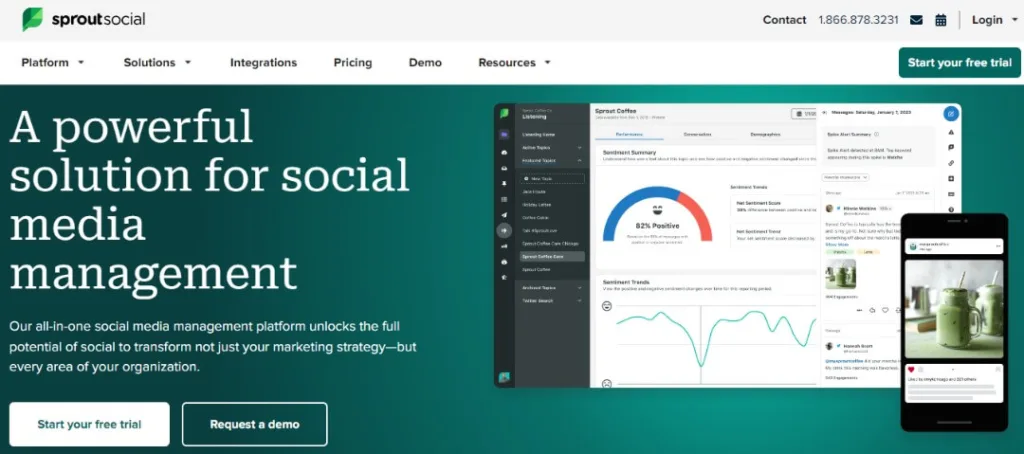 If you're looking to manage multiple social media profiles with high success rates, Sprout Social is the platform for you. It has been a game changer in the social media management industry for years and is trusted by globally renowned brands.
Sprout Social offers exceptional tools such as social listening, scheduling, analyzing, employee advocacy solutions and more. It can help transform your business.
Sign up for SproutSocial's free 30-day trial to see what to expect and experience the transformation of your business by managing multiple social media channels. Sprout Social is truly the preferred go-to platform for you.
Take a look at what to expect when you sign up with Sprout Social.
Key Features of SproutSocial
Connect and manage unlimited social media profiles in one single dashboard.
Publish, schedule and save draft posts with the AI Assistant tool.
Monitor keywords, profiles, locations and more.
Onboard teams
Access paid promotion tools to boost Facebook, Instagram, and LinkedIn posts.
Chatbox and automation tools
Premium analytic tools
CRM and social commerce integration with popular apps like WooCommerce, Shopify, HubSpot, etc.
And

lots more!
Pricing: SproutSocial lets you access a free 30-day trial, while paid plans start from $249 per month as seen in the screenshot below.

---
Frequently asked questions
---
Bottom Line: Which of the above is the best social management tool to use?
Managing social media accounts is crucial for both individuals and businesses who want to establish and maintain a strong online presence. It requires a combination of creativity, strategic thinking, and data analysis to make the most of social media platforms' opportunities.
However, managing your social media accounts manually can be time-consuming and hinder your productivity and business growth.
It's important to optimize your social media presence to boost your business, and there are several social media management tools available to help you do this. Depending on your business size and budget, you may find different tools more suitable than others.
RelateSocial is best for startups and small business owners who are considering costs, while HubsSpot, SproutSocial and Zoho Social are best for all business sizes including enterprise solutions for large corporations.