Are you looking to register a domain name that matches your brand? We can help you find the perfect extension.
Registering the right domain and its extension is crucial when starting an online business, but it can be hard to come up with catchy business name ideas with a perfect domain name.
In this article, you'll learn some useful tips to consider before or when choosing to register your desired domain name and extension for both personal blogs and business websites and also non-profit websites.
What is a Domain Name?
A domain name is usually made up of your desired name (personal or corporate) alongside a few other phrases before the dot sign, known as domain extensions.
When joined together to form a URL (e.g johndoe.com), they point to your website (host) or serve as an address for your website.
Your domain name is your identity on the Internet. It establishes instant trust and credibility with your customers and business associates.
7 Benefits of Registering a Domain Name
Registering a domain name can provide several benefits, including:
Establishing an online presence: Registering a domain name allows you to establish a unique online identity for your business or personal brand, which can help increase your visibility and credibility on the web.
Professionalism: A custom domain name gives your website a more professional look and feel, which can help establish trust with your visitors and customers.
Branding: A domain name can be an essential part of your branding strategy, helping to create a memorable and recognizable brand image.
Email addresses: A domain name allows you to create professional email addresses that are associated with your website, which can help you establish credibility with your customers and clients.
SEO: A domain name that contains relevant keywords can help improve your search engine rankings and drive more traffic to your website.
Control: Registering a domain name gives you full control over your online identity, allowing you to build and manage your website as you see fit.
Investment: Registering a domain name can be a valuable investment, as it can increase in value over time and be sold for a profit in the future.
What is a Domain Extension?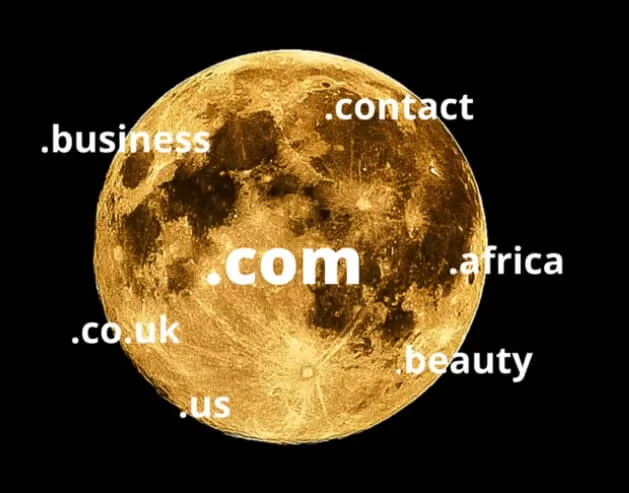 A Domain extension is an essential part of any domain name. It depicts your type of website. Because of that, we will dive into what domain name extensions are and their purpose and give tips on picking an extension for your website.
Some years back, aspiring website owners were only privileged to have the most common domain extensions like: .COM, .NET, .BIZ, and .ORG. They were so limited.
However as the dominance of the internet spreads, more registrars were opportune to create and offer more unique public domain extensions to end-users.
Today, you can register several renewable extensions such as .shop, .name, .me, .xyz, etc at a fair amount. Hence, it is now possible for any aspiring website owner to register any of these extensions as long as it suits the user's objective. Be it for merchandise or non-profit aims.
Types of Domain Name Extensions
There are a few types of domain extensions available. And as an aspiring website or blog owner, you need to make some considerations before opting for your choice.
Generic or Top-Level Domain Extensions: These include the major ones like .com, which is usually referred to as the king of all domains, then next to it .net, .org, etc. They're also commercial, unlike .org which is mostly used by non-profit organizations. Newer gTLDs include .blog, .club, .travel, .me, and .store for e-commerce websites and so on.
Country Code Top-Level Domain Extensions: These include the likes of .gov.ng, .co.uk etc. They are associated with every country's online presence. For example, if you live in the United Kingdom and you're offering a local business to its citizens, e.g 'yourbusiness.co.uk' you might want to consider opting for a country-code top-level domain name (ccTLD) so as to be easily and quickly seen by your patronizers during an online search.
Similarly, if you own a business in the United States. In 'yourbusiness.us', the TLD is .us and the SLD is 'yourbusiness'.
7 Things to consider before you register a domain name and Extension for your website
Registering a domain name can be easy because you can select whatever name you want, but what you choose is crucial for your business's future or your blogging website. Also, the extension part can be branded alongside your domain name.
So, in this section, here are some rules or checklists you must keep in mind before you register a domain name and extension for your site:
Choose a domain name that can be your brand name, if required. If your brand doesn't have numbers don't purchase a domain with numbers because there is no brand matching from the user perspective.
For commercial purposes, register domains with various extensions such as .com, .net, .info, .biz, etc. Preferably, go for a .com. Also, bear it in mind to choose extensions that relate to your business.
For non-profit organizations, you can opt-in for the .org extension.
Ensure that the domain name you are opting for is not a trademark or copyright.
Find a short domain name that's easy to spell with one phrase or two phrases max. The fewer the characters in a domain name, the easier it is to memorize, type, say, share, and get shortlisted on social media platforms and in search results.
If your website is serving customers locally, then you can buy it with the suffix of your country. For example, a local website in Nigeria can go for .com.ng, .ng, etc.
If your domain name is not going by the brand name, then at least you should use specific keywords which describe your business, for example, farmerseducate.com. Organically, it helps improve your rank on search engines (which increases traffic) and it also makes more sense to your prospective customers.
How to Register a Domain Name (The Easiest Way)
Registering a domain name involves securing the name you want with an organization called ICANN through domain name registrars. For example, if you choose a name like "johndoe.com", you should go to a registrar, and pay a registration fee that costs around 10-15 USD per year for that name.
That will give you the right to the domain name for a year. It would be best if you renewed it annually for the same amount per annum.
At the point of domain registration, you will be asked to enter your details like:
Full name
Email address
Phone number
Home address
Where to Register A Domain Name Extension?
These days, there are several online registrars that sell domain names, but not all of them actually sell your preferred generic top-level domain name (gTLD) or country-code top-level domain name extensions (ccTLDs).
And some that sell, sell them at higher rates. So we recommend you register your domain name extension on TemydeeDigital Shop. You will find the highest archive of domain name extensions for sale there.
Not only do you get to buy cheap domain name extensions from TemydeeDigital Shop, but you also get to have some free services that come with it such as two free personalized emails, free WhoisGuard private protections for life, and free SSL security for your domain name.
All these and more you will get when you choose and register your domain name with your desired extension on TemydeeDigital Shop whether for personal and or business goals. Also, you can conduct a bulk domain registration, transfer and manage both your single and bulk domains to our portal, use our domain name suggestion tool and so much more.
What If My Domain or Extension is already registered by someone else and is not in use?
Usually, many investors are in the business of buying and reselling these domains on a large scale. But don't worry you can repurchase the domain on TemydeeDigital Shop by simply searching for the domain name and placing a backorder.
With our backorder service, we will monitor and attempt to grab your domain for you at an affordable price. Contact us for more inquiries on our domain backorder service.
PS: Need help registering a domain name or creating a website or a blog? Hire us.
We hope this article helped you learn how to choose and register your desired domain name and extension for your website.
If you liked this article, then subscribe to our email newsletter for more tutorials below. You can also follow us on Twitter, LinkedIn, and Facebook.