Small businesses looking to establish an effective online presence with a website need the best WordPress hosts to thrive in the digital world.
WordPress hosting is an environment specifically designed to cater to WordPress websites. With WordPress hosting, small business owners get resources and tools designed to help them get the most out of their websites.
Unlike regular web hosting, WordPress hosting has numerous benefits, such as fast lightning speed, increased uptime, enhanced security, up-to-date servers, dedicated customer support, and so on. All the setups are well taken care of for you.
If you're planning to create a WordPress website, you need to know some of the best WordPress hosts offering hosting solutions specifically for WordPress sites.
Here's the ultimate list of WordPress Hosts in 2023 that can help small businesses start and grow their websites or blogs.
Disclosure:
We are a professional review site that receives compensation from the companies whose products we review. We tested and reviewed the WordPress hosting platforms ranked here. We are independently owned and the opinions expressed here are our own. Here's our disclaimer.
Table of contents:
Why Do Small Businesses Need The Best WordPress Host for Their Websites?
There are reasons why small businesses need the best WordPress hosting provider for their websites.
One question starters often are asked: what hosting provider works well for businesses of all sorts? The short of it is that there are many that you can choose from depending on your business needs.
If you currently have a WordPress site, then you are already subscribed to a hosting plan from a provider, and chances are that it will work fine if it has for you up until now.
However, for those that about to embark on creating a website, ensure that your WordPress hosting provider has these features:
Performance: A good WordPress hosting provider can provide faster loading speeds and better uptime, leading to a better user experience for your website visitors.
Security: A reliable hosting provider can help protect your website from cyber attacks, malware, and other security threats.
Technical Support: A good hosting provider will provide reliable and efficient technical support, helping you resolve any issues you may encounter with your website.
Scalability: As your website grows, your hosting provider should be able to accommodate the increase in traffic and resources.
Cost-Effectiveness: A quality hosting provider can offer affordable and scalable solutions that meet the needs of your website and budget.
By choosing the best WordPress hosting provider, you can ensure that your website has the performance, security, and support it needs to succeed online.
At TemydeeDigital, we usually recommend the best and most reliable WordPress hosts, Domain name registrars, and other enterprising tools with deals for our clients and readers.
Whether you are about to start rendering services online as a small business owner or creating an online store that will someday be processing millions of orders, you are guaranteed to find a host that meets your needs here.
The Best WordPress Hosts For Small Businesses In 2023
Oftentimes, choosing a hosting provider can be difficult, so we have selected a few of the best to get small business owners started. Sign up with any of our recommended WordPress hosting solutions below.
Talking about speed optimization features and a 99.9% uptime guarantee, give it up to Hostinger. Your WordPress website will experience fast-lightening performance, automatic WordPress updates, and top-notch security measures to mention but a few.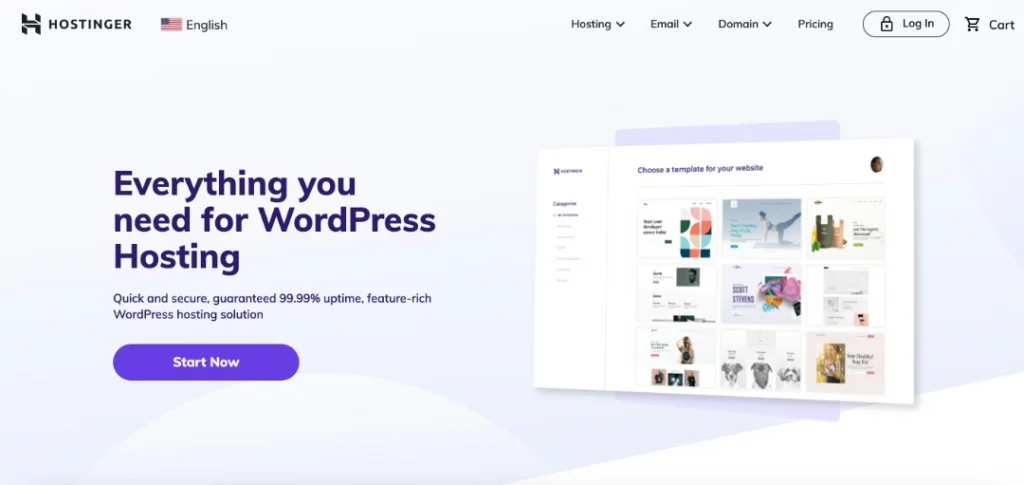 Hostinger WordPress Hosting Pricing Plan
Hostinger has four WordPress hosting plans starting from $1.99 per month with 50GB SSD storage and 100GB bandwidth, which is more than ideal for starters looking to start a blog or create small business websites.
Hostinger also offers a 30-day money-back guarantee just in case you're not satisfied with their hosting services, which rarely usually happens.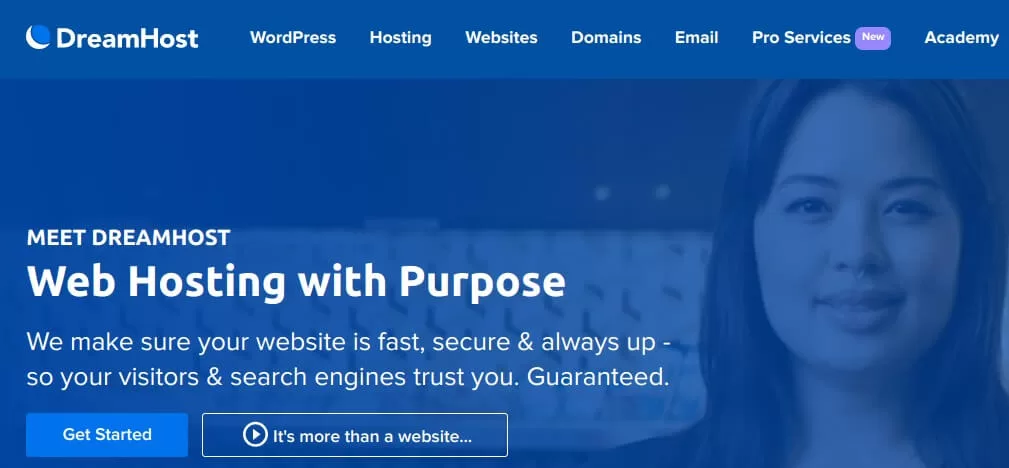 DreamHost is officially one of the recommended hosts by WordPress. They've got the most affordable WordPress starter packages for startups and existing online business owners.
Some of their unique features are instant WordPress pre-installation, Site builder, unlimited bandwidth and large SSD storage to keep the files of your website, free SSL certificates for optimum security of your website/blog, free privacy protection, free domain for 1-year payment packages, free website migration for existing website owners with no downtime, over 200+ starter site templates to choose from and lots more.
DreamHost WordPress Hosting starts at $2.59* per month.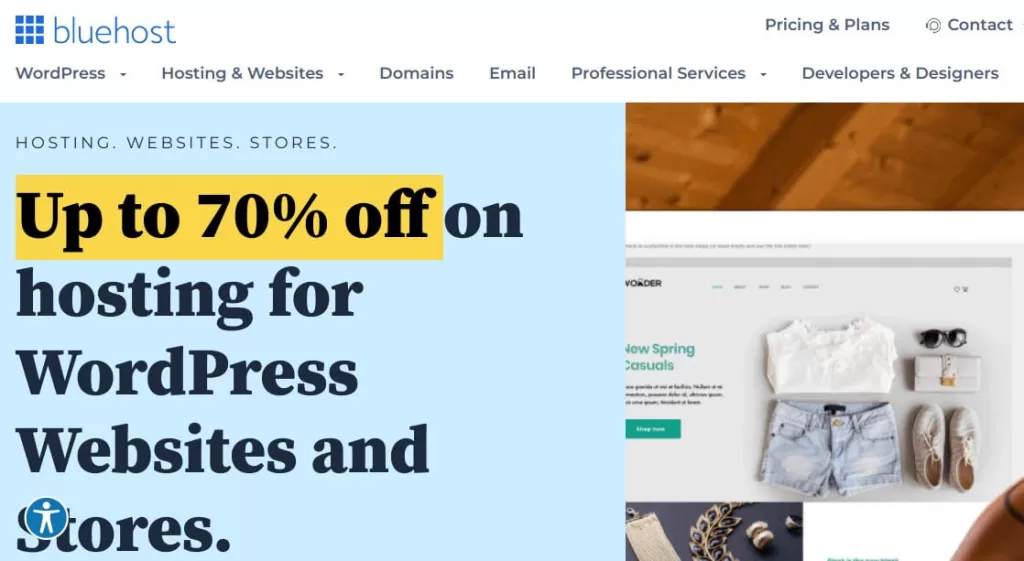 Whether you're ready to grow, sell, or both, Bluehost has solutions to help you push your WordPress website to new levels of success. Their hosting plans include automatic WordPress installation, a free domain name for one year, a Google My Business connection, 24/7 support, and more.
Why do you have to choose Bluehost for your WordPress website?
Bluehost has been endorsed by the management of WordPress for its exceptional services and expertise. In addition to providing reliable and affordable hosting solutions, Bluehost offers customers a range of products, tools, and support to help them successfully manage their website.
This is why we highly recommend Bluehost to our clients and readers as the perfect option to start your WordPress blog.
Bluehost hosting starts from $2.95 per month*.

Namecheap offers EasyWP – a modernized and effectively managed WordPress Hosting solution for every small and medium business owner. Simply because of its low-cost feature among several other benefits.
Other outstanding features include free backups and restores, 50k+ monthly website visitors, an easy-to-use dashboard, 3x faster than regular shared hosting, free positive SSL, and many more.
EasyWP Pricing Plans: Your first-month usage is offered for FREE, while subsequent months attract a fee of $6.88. However, you get to save more when you subscribe to annual plans.
Hostgator is one of the best WordPress hosts in the world to date. We don't have to exaggerate about them when it comes to giving excellent features such as affordability, advanced security – (SiteLock fix, CodeGuard, SSL certificate) free site migrations, free domains, and lots more.
Their ready-to-go hosting solution makes setting up WordPress quicker and easier than doing it all on your own.
Hostgator hosting starts from $5.95 per month*.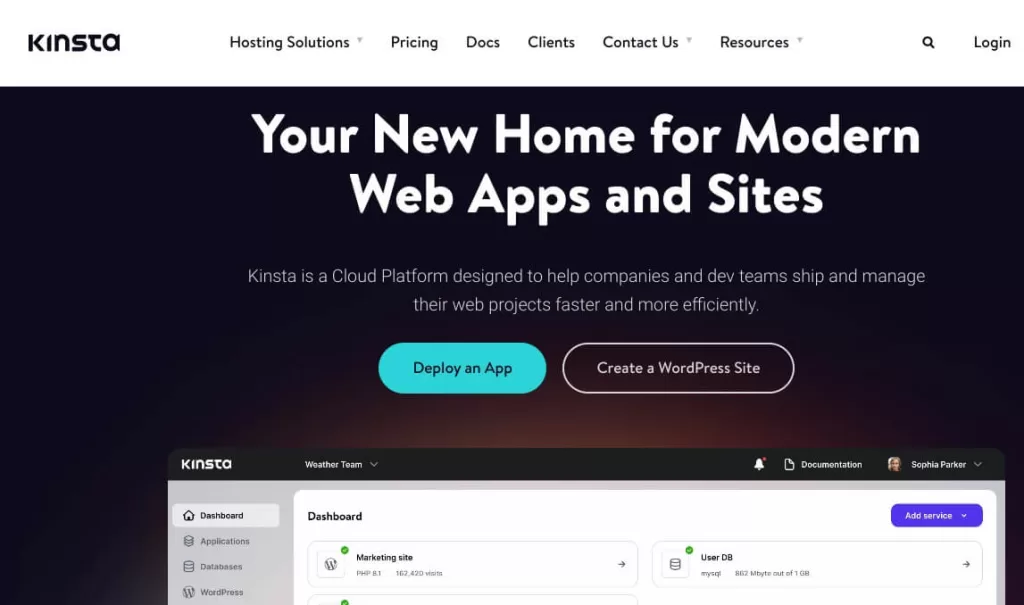 Kinsta is where once our clients and users go, they rarely leave. Why? Because of their outstanding features running on cutting-edge technology and support.
Doubt it? You might want to check out convincing reviews from Kinsta customers.
Some of the unrivalled features that make customers stay with them are:
Powered by the Google Cloud Platform with 24 global data centres.
Lightning-fast speeds and fortified security by Cloudflare.
All the latest tech with SSL, PHP 7, HTTP/2 CDN, staging areas, and more.
24/7 professional support by WordPress experts.
You get an additional 2 months of hosting free when you purchase a year upfront. and many more WordPress hosting freebies.
Kinsta WordPress hosting plans start from $30 per month.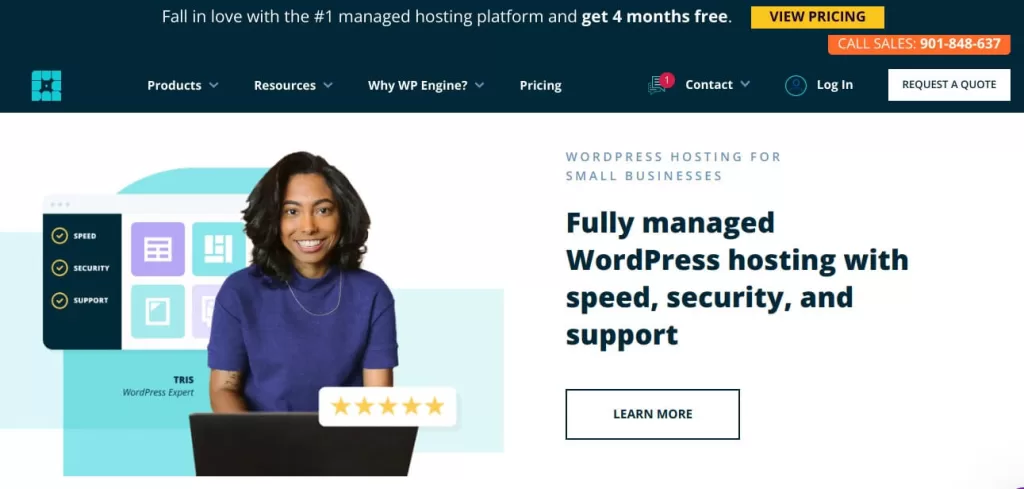 WP Engine provides managed and dedicated hosting powered by WordPress. When it comes to offering excellent website performance, they are indeed at the forefront with great features such as regular automatic backups, core WordPress plugins, and a 99.9% server guarantee just to mention but a few.
You get these features when you subscribe to any of WP Engine's managed WordPress hosting plans;
24/7 support
10 premium themes
Daily backups
Free automated migrations
Free SSL and SSH
One-click staging site and more
The Best and Affordable WordPress Hosts That Offer Monthly Plans for Small Businesses: A 2023 Comparison
This article section provides an overview of the top and most cost-effective WordPress hosting providers that provide monthly plans for small businesses.
| Hosting Company | Monthly/Yearly Plans | Site Installation | Purchase |
| --- | --- | --- | --- |
| Hostinger | $2.99 per month* + 2 Months Free | 1 WordPress site | Buy Plan |
| Bluehost | $2.95 per month* | 1 WordPress site | Buy Plan |
| DreamHost | $4.95 per month | 1 WordPress site | Buy Plan |
| HostGator | $5.95 per month* | 1 WordPress site | Buy Plan |
| EasyWP | $6.88 per month | 1 WordPress site | Buy Plan |
| Kinsta | $30 per month | 1 WordPress site | Buy Plan |
| WP Engine | $27 per month | 1 WordPress site | Buy Plan |
WordPress Hosting Review Monthly Plans
How About Migrating From Other Free Website Platforms to WordPress Hosting?
Yes – this is usually a popular demand service by website owners who are using free website platforms such as WordPress.com, Medium, Blogspot, and Tumblr, and would want to migrate to Self-hosted WordPress.
These days, small business owners make the best decision to set up their online presence and businesses with hosted WordPress, because of scalability, usage flexibility, easy monetization practices, and much more.
If your website or blog is on any of the above-mentioned platforms, and you want to move it to WordPress, simply reach out to us while we examine your site and suggest to you what to do next.
FAQs on the Best WordPress Hosts for Small Businesses